During his time as a financial planner, Joel Moore would spend hours drawing in his sketchbook in front of the television at night.
Despite excelling in art as a high schooler, a career in finance had felt like the "smarter" option. But after spending almost a decade in a job he wasn't passionate about, Moore decided he needed a change.
"I felt like I was wasting my life," he says. "I always wanted a job doing something that I actually liked, I just didn't think it was possible."
He started sharing his drawings online, which led to his first exhibition in the beachside suburb of Cronulla in 2012. Two years later, Moore quit his finance job to pursue art full-time.
Better known as Mulga, Moore's quirky characters — often sunglasses-wearing animals or fruit — can now be found on walls across Sydney and beyond. Known for his bright colours and intricate line work, his distinctive style is influenced by his love of surfing and the beach.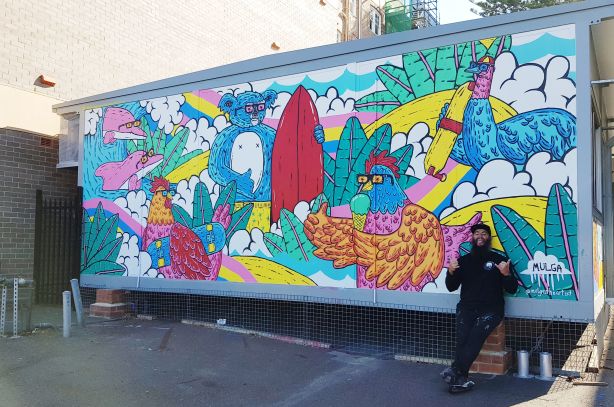 "It's got a pretty strong summer influence," he says. "It's bright and fun, it's pretty humorous. I like to make people laugh, I don't like being too serious."
Once synonymous with vandalism, street art is now in high demand, with mural artists around the country being commissioned by local councils, schools, businesses, and home owners to transform buildings into works of art.
In Sydney, initiatives like the inner-west council's Perfect Matchprogram, which Moore has taken part in, connect mural artists with property owners as part of a strategy to replace unwanted graffiti with creative public works.
Moore paints regularly at the iconic Bondi Beach Sea Wall, where he painted his first mural five years ago, and has completed murals at 17 schools across Sydney. He has also collaborated on projects with major brands like Coca Cola, Slurpee and Redbull.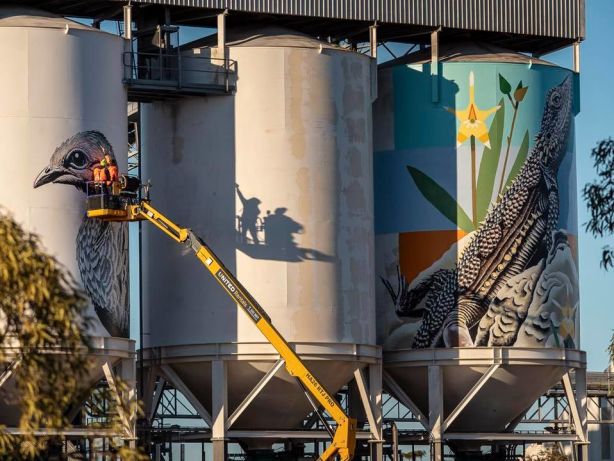 "It's a good way to get your art in front of more people," he says.
With his art starting to gain traction overseas in places like Japan and South Korea, Moore has ambitious plans for the Mulga brand.
"Eventually I'd like to have a theme park, that'd be cool," he jokes. "You know you've made it when you have a theme park."
Perth artist Brenton See tried his hand at graphic design, tattooing and retail before finding his niche painting murals of West Australian flora and fauna.
Motivated by a love of wildlife, See's large-scale, colourful paintings of native animals and plants are scattered throughout Perth's inner-city and suburbs.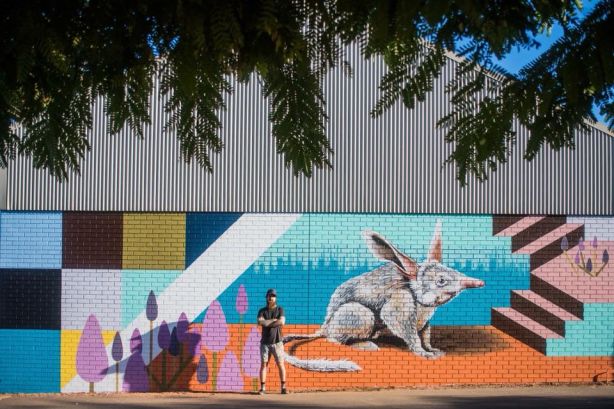 "Once I did my first one, I then got commissioned to do a second one and it sort of never stopped," he says.
Last year, See was approached by arts organisation FORM to paint four 20-metre high silos in Newdegate, an agricultural town about halfway between Perth and Esperance, as part of their West Australia Public Silo Trail project.
"It was a bit intimidating and I wasn't the best with heights at that stage either," he says.
Completing the project meant working from a cherry picker for up to six hours at a time, sometimes in adverse conditions.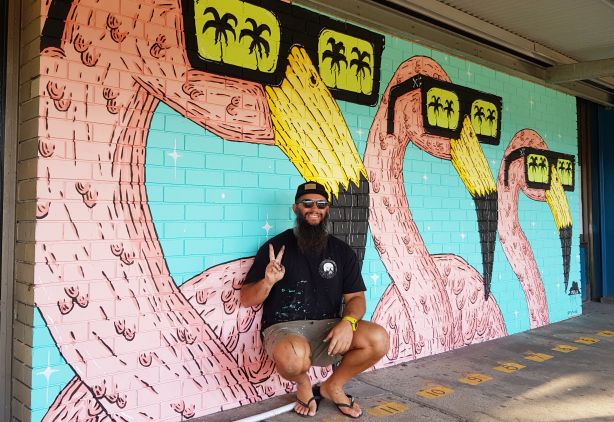 "The last day I was there I actually got frost bite on my fingertips from the metal, so I couldn't feel my fingers for about a month afterwards," he says, insisting that the end result made it all worthwhile.
See's artistic process includes researching and photographing the species native to the area he is painting in to use as inspiration for his designs.
"A lot of my childhood was spent going between the city and the bush, so I've spent a lot of time out in nature," he says. "I started drawing animals from a really early age."
With public art on the rise, both Moore and See believe murals can have a positive impact on local neighbourhoods.
"Sometimes by adding a little splash of colour, it can draw a crowd in and make it a nicer place to live," says See.